Penis Abnormalities The Should Not Have Newborn Circumcision
Circumcision can be safely done for the vast majority of newborns whose parents want it. In fact, the newborn period is the best time to perform these circumcisions.
Circumcision can be done in any healthy baby boy with a normal appearing penis. However, when the penis does not look normal, it is best to postpone circumcision until a pediatric urologist has evaluated him.
Parents are commonly told that newborns with hypospadias should not have circumcision "because the skin might be needed in the repair". This is actually not the case, as the foreskin is not required for modern repairs of distal hypospadias. Nevertheless, circumcision should not be done because the Gomco and Plastibell devices most often used do not function correctly when the foreskin is malformed.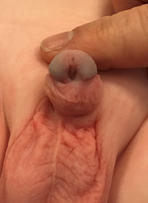 This is a picture showing the typical appearance of a concealed hypospadias found after newborn circumcision. This is not a circumcision injury!
Occasionally, a newborn with a normal appearing penis is found during the procedure to have a concealed hypospadias. Practitioners may have been advised to stop the circumcision when that is suspected, but, in fact, it is best to complete the circumcision.
Practitioners doing newborn circumcision do not have to worry about concealed hypospadias. Sometimes a practitioner stops a circumcision because of possible hypospadias when the penis is normal, and the patient then has to have the procedure completed at a later date under general anesthesia.
Similarly, penile torsion is sometimes found after circumcision. Most often the "median raphe", the normal line running up the middle of the underside of the penis, is twisted in these cases, alerting the practitioner to the possibility of a penile abnormality. Nevertheless, circumcision usually does not cause problems with the torsion repair.
However, newborn circumcision in a newborn with lateral penile curvature can remove skin needed to cover the penis after the curvature is straightened. In some cases, a skin graft will be required as a consequence.
Here are some pictures of penises that should not have newborn circumcision without consultation with a pediatric urologist: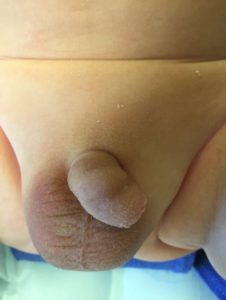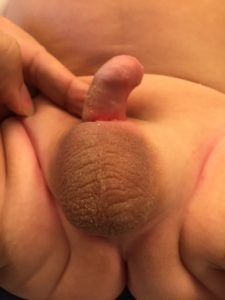 These pictures show lateral curvature to the left. The median raphe is not seen, and the skin on the left side of the penis is noticeably shorter than on the right side. Newborn circumcision should not be done, preserving all the skin to help cover the shaft after it is straightened.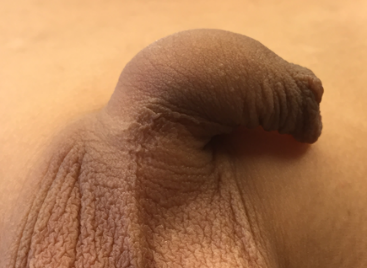 Another newborn with left lateral curvature. Most penile curvature is to the left. Again, it is best not to do a newborn circumcision.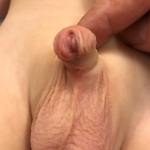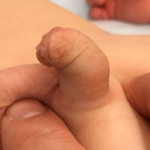 This is "chordee without hypospadias". The foreskin on the underside is not fully formed and so newborn circumcision is not recommended. In addition, the downward bending indicates the skin on the underside is short. Circumcision could remove skin needed to cover the penis after it is straightened.